A guide to sock style and fashion etiquette
 For a small accessory to the foot, there is a lot to be said about the color of the socks you wear. And don't ever think it doesn't matter—socks are something everyone notices—particularly if they are the right look and feel.
For decades it has been said that you should match your socks to your slacks—rather than your shoes—and that still holds water to an extent. In no-shoe situations, socks matched to your trousers give a sense to continuity to your outfit. However, many men wear socks that match an accessory such as a tie for a smart fashion change of pace.
In general socks need to match the overall look you're going for with the rest of your outfit. It  you want to play it safe, stick to a pair of subtle dress socks match your suit while attending a business meeting. Similarly, if you are going to a more relaxed event or weekend party, break out the socks with bright colors are patterns.
You can thank Silicon Valley entrepreneurs and the technology industry as well as BLACKSOCKS for introducing patterned socks, funky designs and stripes and polka dots, to name a few.  About 10 years ago, the business men who introducing hooded sweatshirts als
If you want to play it safe, select socks that are either a little darker or lighter than your slacks. With a light grey suit, for example, you can't really go wrong if you wear a pair of socks that are a slightly darker shade of grey — or vice versa. The same things goes for brown suits and beige or brown socks.
A good place to start if you want to begin experimenting with colors and patterns socks is to start with blue, light brown, grey and or even red, for those who want to step in style. Patterns with checks one or two colors are also fun to sport. These are formal enough to wear to a business meeting without eyebrows being raised, and in brighter shades, they go well with many other outfits.
Today's metrosexual stylish men don't need to abide by any of the old rules and morays about socks. In fact, many men today have built a sock collection with polka dots, stripes, paisley prints, plaids and other patterns.  It becomes are part of your look and feel. Socks can make a statement. While wearing them, you will achieve the best results if you use some common sense by coordinating at least one color of your multi-colored socks with a shade of your pants.
And let's be frank: plain white socks are boring, and they can also cause too much of a contrast look if you're wearing them with dark trousers. If you insist on white socks, pick white ones with patterns on them, and when you wear them, make sure they match some elements of your clothes.
Another sock faux pas to avoid:  don't show skin. When you sit down and cross your legs, there should be no skin showing between the bottom of your trousers and the top of your socks. That falls into the category of a sight for sore eyes.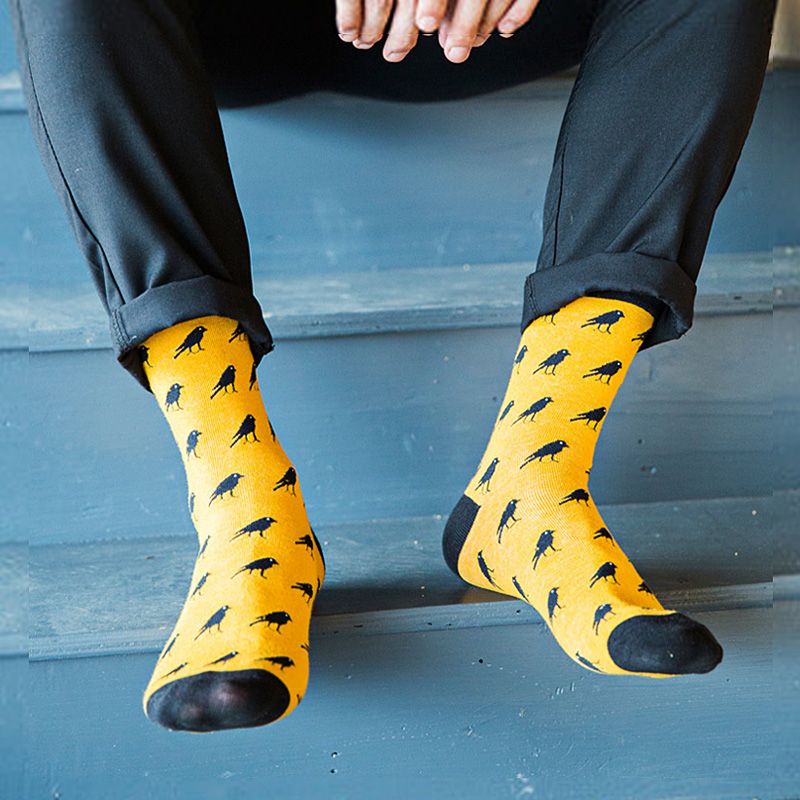 If you are going to invest in a nice selection of socks, please do not fold your socks, or roll them up — doing either of these will produce unseemly bulges near your ankles. Socks should be pulled up your leg as far as they will go.
Keep your socks tailored. Your socks should be clean and without holes and should not be loose from over wearing. You might think that this is stating the obvious, but you'd be surprised by how often these basic rules are broken.
Finally, do not wear sports socks with dress shoes — ever. Not even at as a last resort! Sports socks are too thick for dress shoes and are often ribbed. The best and only option is a thin pair that are easy to slide into the shoes. At most, dark sports socks can be worn with a pair of denims.