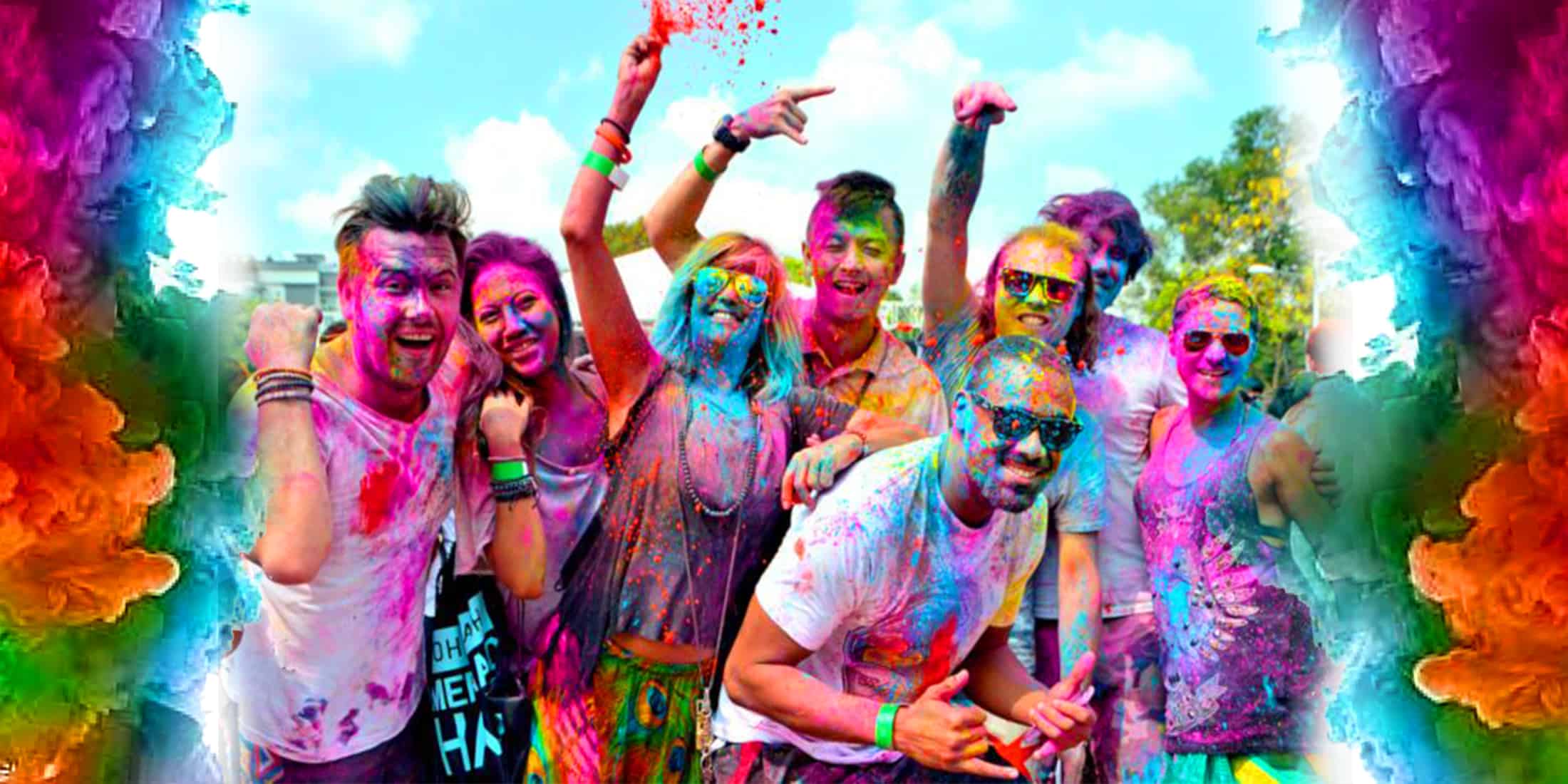 From Kashmir to Kanyakumari, find any man on Holi and you'll catch them in that one plain Kurti they've owned for decades. Some younglings won't even go that far sometimes even – getting out for a fun-day holiday in their every day "cricket with friends" costumes. But let this Holi be the day that you surpass barriers, not just with the ladies in your neighbourhood and friend circle, but also with your closet! Check these outfit ideas to up your style game and let the festival of colours bring some life to your wardrobe.
Fusion: It's hard to go wrong with the ethnic-with-a-twist outfit look. Pick out the perfect set of sunglasses and pair with a solid t-shirt with a Nehru collar or Mandarin collar. Neutral colours like beige, salmon, or white work best for the occasion. Pair with neutral or dark straight-fit chinos, if you're just looking forward to a quiet evening out with loved ones.
Laidback: Planning to lounge around the house and spend a cosy day at home with your family? Pick some super-casual off-white t-shirts for men online and pair them with similar coloured shorts. Since the whole outfit is plain, you can go with simple graphic t-shirts.
Classy-casual: The classy casual look plays up plain coloured stylish t-shirts for men. If you're expecting some friendly gulal from friends and family, pick a light-blue or yellow t-shirt so that your oh-so-natural tye-dye look stands out for the Instagram stories. Pair with a cool pair of light or dark blue denim.
Desi boy: A tried & tested set of flared pyjamas or kurti set is always a no-hassles choice. Try on something different than plain white though.
Ethnic drama: If you're in the mood for experimentation, a dhoti with a casual t-shirt is the absolute best look. Leave the stubble beard on and get your best pair of glares out to complement the attire. Try on an asymmetrical Nehru jacket or even a casual bomber if it suits your style. Brown leather juttis complete the look!
Sunday Funday: Planning on a big gulal-gala with friends? Get comfortable with loose-fitting men's joggers and a solid white t-shirt. You want to avoid materials and fits that stick to the body, or the water splashes will take over your attire. Overwhelming accessories or flashy colours are also a big no-no. Plain, light-coloured joggers with an equally light T-Shirt is the best choice here.
Road trip: Had enough of it all? Planning to get away from the city with the best buds? Pair a biker jacket or bomber with a set of dark denim. Get the shades out as well! You want straight form fits here too so that you're comfortable on the ride.
Not-so-formal: If you want a comfortable, casual look that is also sophisticated and just right for the occasion, bohemian print graphic t-shirts work really well. Again, pair with chinos or jeans based on the plan for the day – jeans for a family day, and chinos for friends.
Top Holi Outfit Tips for Any Look
Embrace the colour. Whether you like it or not, remember that the colours will land on you sometime throughout the day. Don't play the scrooge or the party-pooper by choosing dark colours. Light colours that help you don a purposeful and confident look is always the best choice!
Forget the wristwatches. Not only are leather bands not suited for the occasion, but you also don't want to soil a pricey set with colours or water.
Sport a bandana. Bandana's are a great way to help you stand out. They also double in function to protect your hair.
Ditch the sport shoes. No matter what look you're going for, juttis or mojaris are the ideal choices for a desi Holi-day.
Holi is the day that you can resolve to break away from the usual greys, blues, and blacks this year and try a fun new colour. However, remember that the all-white attire is reserved for the ladies on this day. You want some colour on you to stand out from the barrage of white. Even if you're going with off-white colours, remember to use the bandana wisely. Most of all, have fun with your outfit and the day will turn out to be most memorable!